Accompagner les réseaux DEPHY-FERME et DEPHY EXPE dans la caractérisation de l'effet des systèmes de culture sur la flore adventice
To characterize weed pressure in agricultural fields of the DEPHY Ecophyto networks, the "weeds" working group of the CASIMIR project, helped by crop and weed experts working for the french crop institutes, developed two methods (CASIMIR DEPHY­FARM and CASIMIR DEPHY­EXPE) to survey weeds in main crops. The objectives of these methods are: (i) with short­term concern, assess the efficacy of farming practices to manage weeds within the crop season, (ii) with long­term concern, assess the effect of cropping system (farming practices and crop sequence) on the dynamic of the weed communities. The CASIMIR DEPHY­FARM method is based on walk away surveys made within a 2000­m² reference plot where the trained person walks across the survey area ("W" path). The weeds are identified and their density is visually assessed using a "Barralis" modified scale. Their dominant phenological stages are also recorded. This simple and quick method intends to be used in the DEPHY FARM network. The CASIMIR DEPHY­EXPE method is based on surveys performed on eight 16­m² plots with one quadrat in each. Weed species are identified. The density of each species is visually estimated with a "Barralis" modified scale within the 16­m² plots and precisely counted in the quadrats. On both, the dominant phenological stage of each species is recorded. At the end of the second surveys, the above ground biomass of each weed and crop species is yield to assess the crop­weed competition. This method which is more complex and time­consuming intends to be used in the DEPHY EXPE network. Surveys are performed twice a year: firstly before winter weedings (in winter crops) or before post­emergence weeding (in spring crops) to observe emerging flora; then before the closed­canopy occurred to assess the flora competed crop. To design these methods, the CASIMIR project benefited from the expertise of the RMT Florad. To assess their feasibility, methods were performed in the RotAB and Rés0Pest networks. They are also discussed and criticized by engineers of the DEPHY networks and other professionals from agriculture through a web survey.
Afin de caractériser la pression des communautés adventices dans les parcelles agricoles des réseaux DEPHY, le groupe de travail « adventices » du projet CASIMIR, avec la collaboration d'experts de la profession et des utilisateurs potentiels, propose deux protocoles à destination de la filière Grande Culture. Les objectifs de ces protocoles sont de : (i) évaluer à court terme l'effet des pratiques agricoles (à l'échelle de l'itinéraire technique) et leurs performances en matière de gestion des communautés adventices, (ii) évaluer à long terme l'effet du système de culture sur l'évolution des communautés adventices. Le protocole CASIMIR DEPHY­FERME : l'observation est réalisée sur une station de référence de 2000m², dans laquelle l'observateur circule en effectuant un W. Il identifie les adventices, leur attribue une note visuelle de densité via l'utilisation de l'échelle « Barralis » modifiée et renseigne le stade phénologique dominant de chaque espèce adventice. Ce protocole simple et peu chronophage est à destination du réseau DEPHY FERME. Le protocole CASIMIR DEPHY­EXPE : l'observation est réalisée sur huit stations de 16m², ainsi que sur un quadrat positionné à l'intérieur de chacune des stations. Après avoir identifié les espèces adventices, dans la station, l'observateur note la densité avec l'échelle « Barralis » modifiée. Puis dans le quadrat, il complète son observation en réalisant un comptage du nombre d'individus par espèce. Lors de chaque notation le stade phénologique dominant est renseigné. Enfin, un relevé de biomasse est effectué pour évaluer l'importance de la compétition des adventices sur la culture. Ce protocole plus précis et plus long à mettre en œuvre est à destination du réseau DEPHY EXPE. Les observations sont réalisées deux fois par an : avant les désherbages de sortie d'hiver pour les cultures d'hiver ou avant les désherbages de post­levée pour les cultures de printemps afin de faire un état des lieux de la flore présente; puis avant la fermeture du rang ou la floraison afin de voir l'intensité de la compétition avec la culture. Ce travail a bénéficié de l'expertise du RMT Florad. Pour vérifier leur faisabilité, les protocoles ont été testés dans les réseaux RotAB et Rés0Pest. Ils ont également été discutés et critiqués avec les ingénieurs des réseaux DEPHY et d'autres professionnels de l'agriculture via une enquête web.
Fichier principal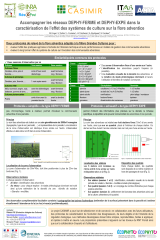 Poster_GIS-GC_HP2E-RMTFloard.pdf (865.28 Ko)
Télécharger le fichier
Origin : Files produced by the author(s)