Etude de l'infection la plante parasite Rhamphicarpa fistulosa en riziculture au Togo
Rhamphicarpa fistulosa (Hochst.) Benth. is an annual facultative root-parasitic weed found in lowlands and floodplains in tropical Africa. It has been reported as the major constraint to rice cultivation in the savannah region of Togo. A survey was conducted in 2012 to access its distribution and to collect information on farmers' knowledge of its control. Rhamphicarpa fistulosa was found in 80% of the 33 visited lowlands. The period of abundance is in August-September when the highest infection (90%) was found on sandy and clay soils. When the parasite was present, 94 other weeds belonging to 24 botanical families were recorded. As management method, farmers use weeding and chemical fertilizers application but always at lower input rates than national standards. The abandonment of plots is mainly due to a heavy infection, other reported damages are the reduction of rice plants growth and plant yellowing.
Rhamphicarpa fistulosa (Hochst.) Benth. est une plante adventice hémiparasite épirhize annuelle rencontrée dans les bas-fonds et les plaines alluviales en Afrique tropicale. Au nord du Togo, elle a été signalée comme la contrainte biotique majeure pour la riziculture de bas-fonds dans la région des Savanes. Une prospection a été réalisée en 2012 pour déterminer l'étendue de son infection. Une enquête basée sur un questionnaire semi ouvert a été effectuée auprès des paysans des parcelles visitées. Rhamphicarpa fistulosa a été retrouvé dans 80% des 33 bas-fonds visités. La période d'abondance se situe en août-septembre où les plus fortes infections (90%) ont été retrouvées sur des sols sableux et argileux. Lorsque R. fistulosa est présente, 94 autres plantes adventices issues de 24 familles botaniques sont aussi recensées. Comme méthode de gestion, les paysans utilisent le sarclage et l'épandage d'engrais de synthèse mais toujours à des taux inférieurs aux recommandations nationales. L'abandon des parcelles suite à une forte infection a été constaté, les autres dégâts étant le ralentissement du développement des plants de riz et leur jaunissement.
Fichier principal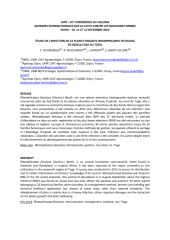 Etude de l'infection la plante parasite Rhamphicarpa fistulosa en riziculture au Togo (2).pdf (714.45 Ko)
Télécharger le fichier
Origin : Files produced by the author(s)